ISO-CHEMIE
ISO-Chemie has been developing, producing and distributing innovative foam products for a wide range of different markets and purposes for more than 35 years. Our core business concentrates on building sealants and the development of technical foams.We are represented by sales offices and logistics centres in European countries such as UK, France, Poland and Scandinavia. Our international markets are serviced by partner companies overseas.Customers all over the world put their trust in our company's innovative products.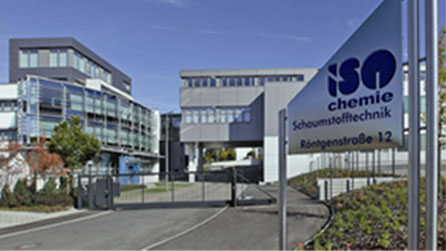 • as building sealants
• as vibration and noise insulation in vehicles
• as swimming aids in water sport
• for packaging and transporting high-quality goods and devices
ISO FOAMS – INNOVATIVE SOLUTIONS FOR A COMFORTABLE FUTURE
CONTACT US
ISO-Chemie GmbH | Röntgenstrasse 12, 73431 Aalen Germany
Tel.: +49 (0) 7361 94 90 0 | Fax: +49 (0) 7361 94 90 90 | Email: info@iso-chemie.de
www.iso-chemie.com
EPDS – ENVIRONMENT STAMP FOR OUR PRODUCTS
As an avowal of the sustainability of our products, we have drawn up our own Environment Product Declarations (EPDs) for our range of sealing tapes as well as for our technical parts.
EPDs present a comprehensive balance of all the environmental impact related to the production of our products. EPDs for PU and PE sealing tapes provide information about the positive effects on energy consumption and thus on the environmental balance of buildings.
Many of our sealing products are rated as "very low emission" by the GEV mark EMICODE® EC1 PLUS. Both users and clients are guaranteed that these products do not give off hazardous substances into the ambient air and do not represent any risk to health.
COMPANY HISTORY
1977 - ISO-Chemie GmbH is set up with its administrative offices in Aalen by Josef Deiß as Managing Director
1983 - The company's first purpose-built production and administration building is opened in Röntgenstraße in Aalen
2002 - The company's 25-year jubilee and take-over of the sealing technology division of Salamander Industrie Produkte GmbH in Türkheim
2007 - Following 30 years of continued growth the first branch office with product warehouse is established in France
2009 - Our international success continues. The first British branch is founded and a product warehouse set up in the north of England
2010 - As demand and success grow, the existing company building is extended by 10,000 m² with new production areas, offices and a modern training centre
2011 - Extension of our international activities with the foundation of a sales office for the Polish market
2012 - We can look back proudly on 35 years of ISO-Chemie and issue our first EPDs (Environment Product Declarations) for sealing tapes and technical parts
2012 - Sign an agency agreement with Beijing Cofinetree Technology Co., Ltd
2013 - Certification to the international environment management standard ISO 14001 is an outward sign of our commitment to our ISO-WORLD sustainability strategy
ENVIRONMENT CERTIFICATION ACCORDING TO ISO 14001
We are making continual efforts to further extend our company's environmental activities. The internationally recognised environmental management system is based on voluntary company measures in the field of environmental protection.
An outward sign of our commitment is certification according ISO 14001.
ISO THE BLUE TECHNOLOGY
We recognize that in the process of developing innovative products in the future, we must consider the economic and ecological factors. We will remain committed to human and nature in a responsible manner. We use energy-saving production processes, and use the safety and recyclable materials. The foam processing as specified in the latest environmental regulations does not pollute the environment, and CFC-free materials.
We have put strong durable, sustainable development in the first place, we know that everything that we do is taking responsibility for creating a future worth living.You can use the blue technology from the quality certification system in Chemistry.
"use the blue technology" ISO-Chemie!